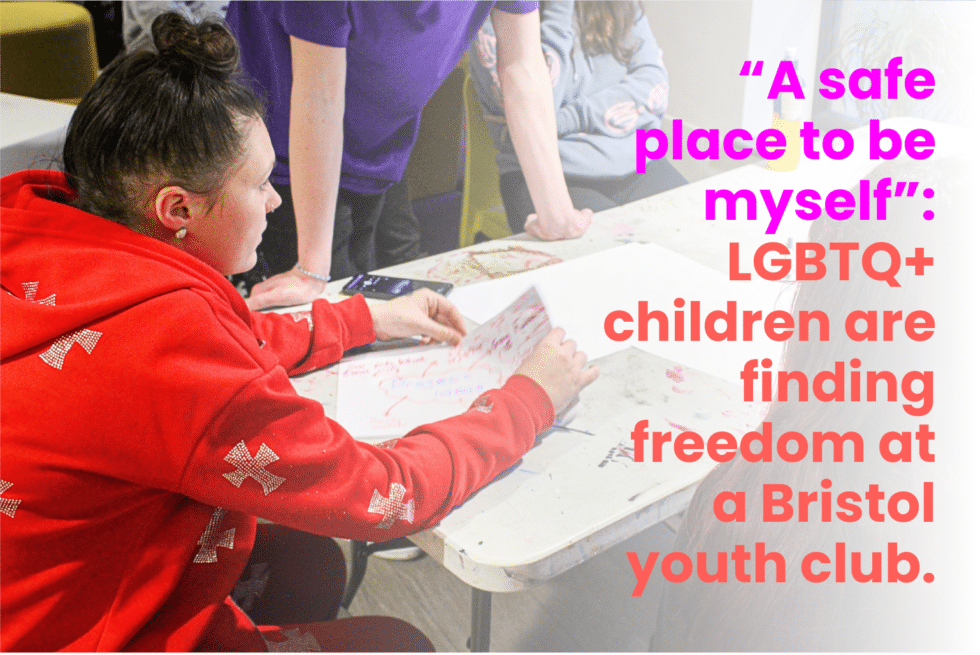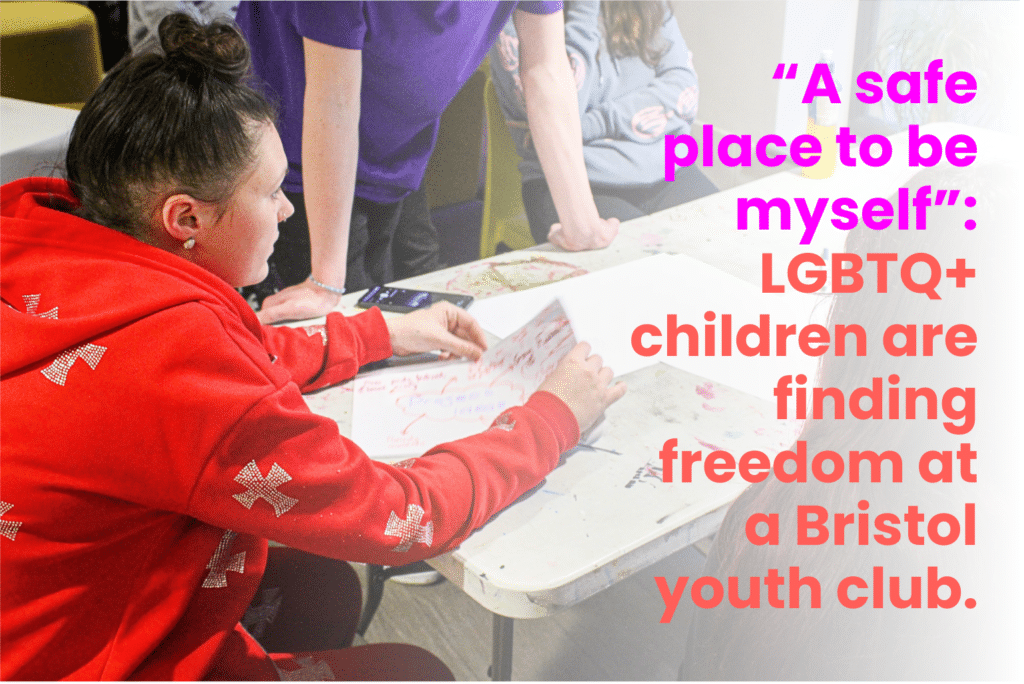 Bronwen, Macy and Elliot have created a weekly club for LGBTQ+ children aged 13-18 to express themselves safely and lead change for the next generation of children in Bristol.
In an expansive, well-lit room just southeast of Bristol city centre, Bronwen and Macy are preparing to welcome a dozen teenagers to their LGBTQ+ youth club. There is a buzz about a new young person who might attend this evening.
"It's nice because when we saw some of them first come in, they were a bit 'meh' and now, you can really tell they feel safe here," explains Macy. "They've said it. They actually feel safe here, they want to be here, they don't ever want to leave here."

"We can't get them out the door!" Bronwen adds. "They've started to use the space more and tell us more ideas. They're just being more open and honest. Even their banter has changed a little bit!"
The group is hosted by a local youth organisation, where both Bronwen and Macy are employed. The space is designed to be used by young people, open and colourful, and contains a substantial computer suite, lounge area, kitchenette, a pool table and walls of shelves stuffed with books and games.
When they first launched the youth club in September 2022 with funding from the Challenge and Change Fund, the three co-founders didn't know how many attendees to expect. It took a month to get a young person through the door, but the number of regular attendees has since grown steadily, aided by referrals and support from the young members.
"They're all very welcoming to other people," says Macy. "They make sure they feel ok and that they don't feel left out."
As the young people roll in that evening, the urgency for spaces like these becomes clearer. Some children, more reserved as they enter, burst into excitement as they reunite with each other. Other children arrive in a more weary condition, and sit apart from the group in silence. Bronwen explains that a couple of the young people are having a particularly difficult time at home and school.
"There's so much that goes wrong for a child that's trying to transition, for example', says Bronwen, who adds that  LGBTQ+ children experience a high degree of dismissiveness and gaslighting about their experiences. "It's hard for them and creates  mental health problems. I know there's not enough sex education, especially for the LGBTQ+ community. I know that a child that comes out when they're younger will come out every day in their lifetime. I know that schools do not always help young people who are part of the LGBTQ+ community."
In too many cases, says Bronwen, the wellbeing of LGBTQ+ children is entirely dependent on whether or not they have a supportive teacher.
"You normally get that one teacher, the LGBTQ+ teacher, that will set up groups for young people. But I think of how many staff are in a school. Why isn't it everyone's responsibility?"
For some children, the environment at home is little better.
"The level of support they get from home is quite mixed, really," explains Macy. "Some could have very supportive backgrounds, some have families that are very against it so they can't even be who they want to be at home."
In a 2021 report, Growing Up LGBT+, the charity Just Like Us revealed that 91% of LGBT+ school pupils have heard negative language about being LGBT+. One in four (25%) face daily tension at home, compared to 15% of non-LGBT+ young people, and they are half as likely to be 'very close' to their family.
The group has set up numerous safeguards to protect children who aren't ready to or can't come out safely.
"We don't put the location out there", says Bronwen. "When they come in, there's a form they fill out about their sexual orientation, their gender, do parents know, what name do their parents call them? so we know if we had to call home what information parents know to make the young person feel safe"
Bronwen explains that by basing themselves at the premises of a youth organisation, the group can provide reassurance to both young people and their parents about where they are spending their time.
"If we have to phone parents for whatever reason, instead of saying that they're here for the LGBTQ+ group, which could be detrimental to that young person, we say they're here for the wellbeing group, or the wellbeing group is going on a trip. It just helps to create that bit of ease for those young people."

"This group is really important because, as much as there is quite a bit of support in Bristol, a lot of things still happen that need to be challenged."
During the two-hour sessions, Bronwen, Macy and Elliott create time for the group to reflect on the previous week, share how they are feeling and suggest how they'd like to spend time together. The young people also help to prepare a communal meal. The team has learned that young people often feel more comfortable sharing difficult feelings and experiences while doing other activities.
"It's through these that we've started getting some things out about what doesn't quite go well at school, with the GP or with other people", says Bronwen. "I think every single young person that comes to this group has been bullied and has had comments made to them about being LGBTQ+."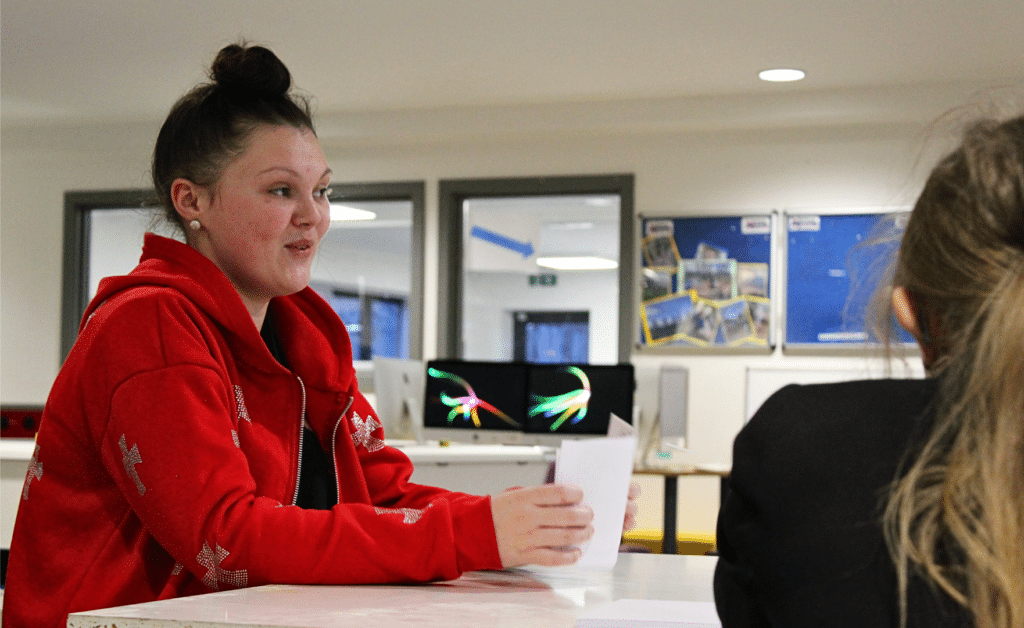 Though Bristol has a reputation as a relatively safe place for LGBTQ+ people, Bronwen and Macy explain that there is a difference between cultural acceptance and daily acceptance of LGBTQ+ people. While Bristol might on the whole embrace and celebrate LGBTQ+ people, their interactions with others may not reflect this culture.
"It's still scary for LGBTQ+ young people even in accepting places", says Bronwen. "An LGBTQ+ young person is constantly having to come out. Wherever they go, they have to come out. I think this group is really important because, as much as there is quite a bit of support in Bristol, a lot of things still happen that need to be challenged."
In response to this, the trio have introduced social action sessions to the group, and are challenging them to create and deliver activities that will benefit other LGBTQ+ young people across the city. The co-founders believe that instilling confidence and agency in young people is key to them navigating a world that is not yet entirely accepting of their identities.
"We've built up quite a strong relationship with them and they have started speaking a lot more about the challenges they face", says Bronwen, "So we say, ok, this is everything you've said about your school, what shall we do about it? But we also don't want to tell the young people the change we're going to make. We want them to tell us the change they'd like us to support them with. They're the ones that are living it."
"It's not about equality, it's about equity. People are still being discriminated against."
The work of the co-founders, who identify as Queer, Trans and an Ally, is greatly informed by their own lived experiences. Bronwen had imagined creating the group for several years before she was connected to Elliot by the youth organisation at which she works. They formed a team with Macy who had, in the past, supported a friend who was bullied for their identity and wanted to learn more about how she could be of service to LGBTQ+ young people. The trio developed the idea for the club and made an application to Challenge and Change, having never applied for funding before.
"It's exciting, isn't it, when you get a grant?" reflects Bronwen. "I think it really hit me when we started getting our first young people through the door and you watch them joining activities, laughing, joking. It makes me think, we've done it. The only thing we need is for more young people to access the space so we're shouting out about it."
In the midst of a nationwide mental health crisis amongst young people, particularly those who are LGBTQ+, Bronwen urges funders to continue and increase their support for vital services and spaces for LGBTQ+ children.
"LGBTQ+ issues got spoken about so much and a lot did go into it because there was initially such a lack of support, but funders have only now just brought us up to the line. It's not about equality, it's about equity. People are still being discriminated against."
The growing number of group members rely, in some cases, solely on the club that Bronwen, Macy and Elliot have created for safety, fun and as a therapeutic outlet. The children shared with Blagrave their thoughts about why the group is so important to them.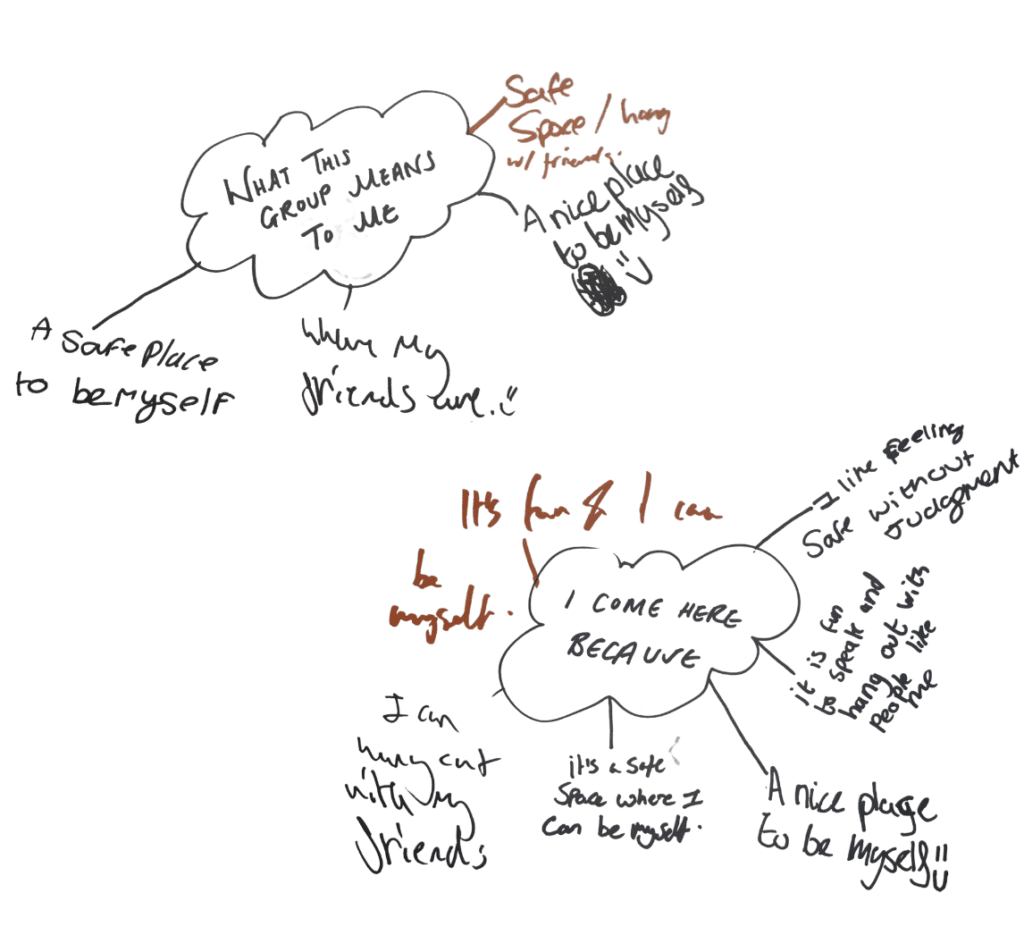 "If you come here, it is a very welcoming space", says Macy. "There ain't judgement. We want you to come here and feel safe, open up. Once you start to feel comfortable, we're here, we're ears. With the social action, your voice matters. Whatever you tell us, it matters."
Given the critical roles they play in the lives of their young members, it can be easy to forget that Bronwen, Macy and Elliot are, themselves, young people with their own hopes for the future.
"It would be amazing to make being LGBTQ+ legal in every country in the world," says Bronwen. "And if everyone had money!"

"No judgments, no bills, no taxes", chimes in Macy, jovially. "But seriously, we'll always be here with an open door. We'd never push anyone away. Every person is welcome here, no matter who you are. You'll always be welcome."
–
If you would like to be connected with Bronwen, Macy and Elliot, please email bronwen.fowler@youthmoves.org.uk.
–
The Challenge and Change Fund is designed by young changemakers for young changemakers. It funds young people directly, supporting them to create the change they want to see. It prioritises young people who are emergent and have lived experience of the injustices they are trying to change, supporting youth led collectives, social enterprises and CICs across England. You can read more about Challenge and Change here.