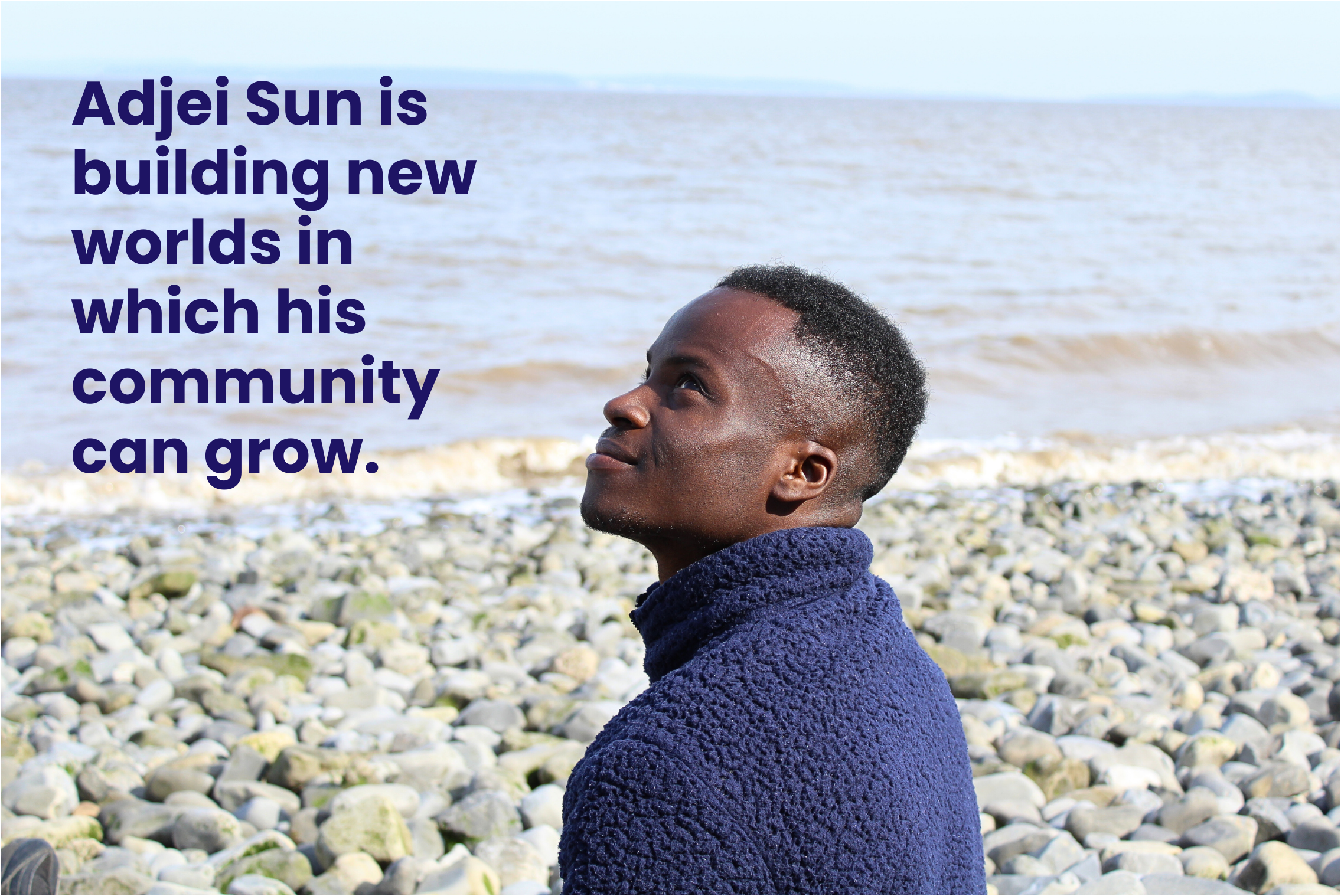 Through creative events focusing on the intersections of mental health, environmental and social justice, Adjei Sun invites communities across Birmingham to travel with him on a journey of growing, un-learning, healing, remembering and serving.
"If I view myself as a poem, then anything you see in me is interesting to me," says Adjei. "When I change as an artist, when something changes for me as a human, the artist picks up on that and then the community engages in it. In a lot of traditions I've looked into, there's a sense of community in gathering people around changes in nature. In England, when there's a solstice, people gather together in places like Stonehenge, so I want to create a space where people can gather to mark changes."
Adjei began writing songs and short stories when he was around seven years old. As a teenager, his creative explorations led him to pursue acting and music and by the time he was sixteen years old, he had started performing his poems in public spaces in Birmingham, where he lives.
"It can be a scary thing to put yourself out there and be honest and vulnerable," he says, reflecting on that time. "I felt like the more I did that, even if my voice shook, the more I could feel other people also feel a connection. Sometimes we fear that if we stand out or do something different, we are not going to be worthy of connection but what happened was that the more I opened up and showed people these different parts of me, the more they felt able to connect with me and that was the foundation for me being able to build community in the way that I have. I feel really honoured to be able to do that in my city and other places that I am able to perform."
Adjei has been a prolific organiser of community events since he was eighteen. These events are designed to immerse people in a state of unknowing, and offer them a space in which to explore the things they might think about, but rarely discuss.
"After coming out of university and the Covid-19 lockdown, which was a very reflective time, I realised there weren't many spaces around that me and my peers could have conversations in. I wanted to add an element of conversation and art to community spaces and so it started very introspectively. At the time, I had finished reading a book on masculinity and had been diving more into the topic and critically reflecting and unpacking, so then, naturally, I started to create spaces in which we spoke about this topic, especially inspired by the work of Bell Hooks and what she wrote about masculinity and love."
"I want people to feel like they don't know it all."
After lockdown restrictions eased, Adjei began crafting public events through which communities could reconnect in public spaces. He organised an event called Gifted and Black at which a panel of four Black men had an intergenerational conversation about their experiences of relationships.
Recognising that the seasons impacted his mental health, Adjei subsequently organised a community event which was designed to immerse people in light and boost their serotonin.
"It was a full afternoon and started with a free poetry workshop for under eighteens. Every child and parent got a free veggie meal. Then we had a free yoga class led by me which I called 'road yoga', where people could come in whatever clothes they wanted to wear. That was cool because it had people from their late sixties and early seventies to twenty somethings. We had tea, read short poems and then showed films about dyslexia postpartum mental health, which we followed with a discussion about the films and a short concert."
The element of 'unknowing' is central to how Adjei engages people in his events. His intention is to create spaces in which people can learn from each other both at the events and long-term, building a community that knows how to have conversations that enrich their lives overall.
"I want to be willing to unknow and relisten," says Adjei. "I want people to feel like they don't know it all. You don't know everyone's experiences. You definitely don't know what everyone's going through. Can you listen more deeply when you know that you don't know it all? Do you listen with the intention of hearing rather than responding?
"Through these kinds of events, I'm trying to make different conversations more accessible to people."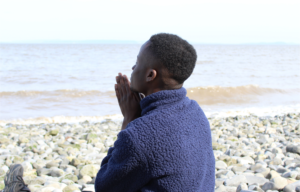 With support from the Challenge and Change Fund, Adjei has since organised events that reflect his artistic harmony and his interest in seasonal and cultural celebrations, or when he feels inspired and identifies a need to explore a particular subject. Around Valentine's Day, he organised an event called Love Language to which he invited an actress and Director to speak about being in a long-term relationship, raising Black boys and self-love.
"We also had a conversation with Shuranjeet Singh, the founder of Taraki, which is a mental health not-for-profit that works with Punjabi communities. We spoke about love beyond romance, building community and also being at the Gurdwara and seeing men cry while singing their songs. I showed a film I made with Malikah Holder, a friend of mine, called 'LIES (Love is Every Step)' about love beyond romance and, after that, two artists performed their own songs and a couple of covers of Lauryn Hill songs.

Through these kinds of events, I'm trying to make different conversations more accessible to people so they don't feel like conversations around identity or environment or mental health are things you can only speak about as a so-called expert. I'm trying to make people feel seen, really; seen, heard and listened to."
Adjei has since organised events to celebrate the beginning of Spring and headlined a poetry night that marked Earth Day. Most recently, Adjei organised an event for World Ocean Day inside an empty pool in an Edwardian swimming bath and delivered several Ocean Day themed workshops at local schools and youth centres.
"I find that really fun, especially the Oceans Day event I worked on. It was really about how do I get people to enter the space and feel like they're entering this water world? It was magical. There were talks ranging from science to folklore and arts ranging from a harpist, a singer, poetry written especially for the theme, a choir and an art installation. There were also book giveaways and food. I wanted to show that even a landlocked city like Birmingham is very connected to the sea for reasons such as migration, the climate crisis and our waterways.

For me, the idea of world building is more in the artistic way of really wanting to create experiences that make people feel like they're getting to that part of themselves that is very playful and makes them imagine things.

Everybody, even through imagination, has a relationship to the sea. My relationship to the sea is spending lots of time going back and forth. Ancestrally, it's something important for Barbadians to have access to the sea, and although there are no private beaches on the island, locals call for legal guarantees of access in the face of private developers. I'm interested in folklore and magic. I love all these stories. I'm interested in the fluidity and freedom of water, what it means to identity and what it means to be a man and human."
"The first thing that comes to mind when I think about why I do this work is love."
Adjei has received overwhelmingly positive feedback about the impact his events have had on the communities he's engaged. By combining his art with his skill as community organiser, Adjei is offering a unique programme of activities, and yet these events appear to be increasingly vital to a city that is longing for spaces in which to discuss identity, mental health and nature.
"The creative element allows these events to be lighter instead of being heavy with discussion which is important because people learn in different ways and so it's also creating a feel-good space. The reason I am doing this is to open the conversations and encourage young people to think critically and reflect on the stories and ideas of people who have a variety of lived experiences. It's about the ripple effect that happens when people leave the space and have these reflections and conversations in their own lives.

The funding from Challenge and Change has allowed me to pay myself, in part. It allows me to give myself an offering for the energy I put into things. All the events have had free food for people so I can also feed people through the funding. It gives events more of a boost in so many ways that add to the experience, including being able to pay artists and others. Blagrave has been really great in terms of allowing me to adapt where the money needs to go in response to the need. It allows me to focus on the creativity and creation of the project and to experiment."
Having organised a number of successful community events, Adjei has been reflecting on the ways in which he has witnessed the events change people, and how he believes change happens.
"There's a quote by Thich Nhat Hanh who says something along the lines of 'we can not arrive at the ocean as a single drop. To arrive we have to go as a river'. I find that the more I'm able to go to different places and perform, speak and witness art and community, the more I am able to see people doing work to try and change things in their community. There are all these different drops forming a river and it makes you feel a little less lonely in the work. It reminds you that change isn't something you need to do single-handedly but, all over the world, there are people trying to contribute."
Currently, Adjei is reflecting on what home means to him and is considering a way to explore this with a local community as well.
"I've been having a lot of conversations with people about belonging. I started to ask myself if the stage is somewhere that is home to me because, when I'm on stage, I can feel very free and like myself. I want to create spaces which also make people free. The first thing that comes to mind when I think about why I do this work is love."
—
If you'd like to connect with Adjei, you can do so by emailing adjeisunbusiness@gmail.com.
You can also find Adjei on Instagram at @adjeisun
—
The Challenge and Change Fund is designed by young changemakers for young changemakers. It funds young people directly, supporting them to create the change they want to see. It prioritises young people who are emergent and have lived experience of the injustices they are trying to change, supporting youth led collectives, social enterprises and CICs across England. You can read more about Challenge and Change here.