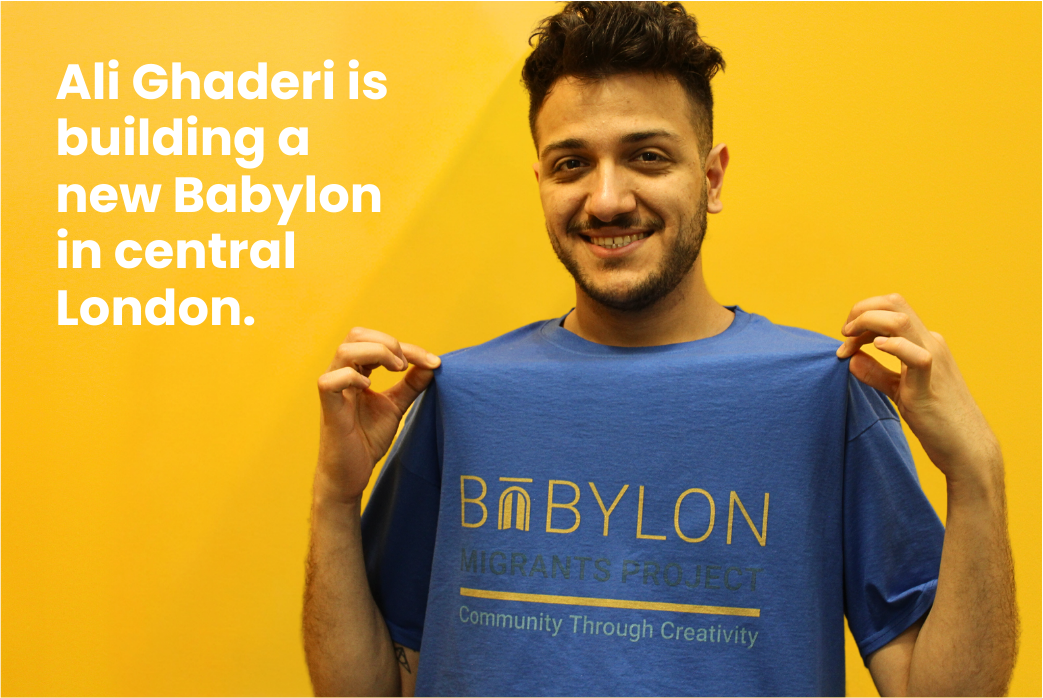 Through creative workshops for young refugees, asylum seekers and migrants, Ali Ghaderi is co-creating a community that is confident, safe and free, and challenging negative perceptions about these young people in the process.
Ali Ghaderi is an actor and activist from south Iran. He can command an audience anywhere (and he has; performing at iconic venues such as the National Theatre and The Globe), though he does this with acute kindness and generosity. On the evening we meet Ali, he is engaging the refugees, asylum seekers and migrants at his organisation, Babylon Project, in a storytelling workshop about the ancient Iranian, Afghan, Tajik and Kurdish festival of Nowruz, which marks the new year.
"I called this group Babylon for a reason," explains Ali. "Babylon used to be one of the first civilisations that had rules about humanity and welcoming people. Babylon is really the birthplace of the Abrahamic religions as it is written that this is the place Abraham came from. It's known as the place that languages emerged. Historically, Babylon is one of the first places that Jews and Judaism flourished, and it was the same for Muslims. It was a system about safety and protection. Someone told me that in Nigeria they say 'we should go to Babylon', meaning that Babylon is the land of freedom and safety. People say that Europeans are so civilised, but many civilisations existed in the Middle East. So I said 'let's call it Babylon', because what we do here is about different people, different nationalities, different colours, a different type of love."
Ali has been working with refugees and asylum seekers since he was ten years old when he started volunteering in Iran to distribute clothes and food to people who fled Iraq, Pakistan, Afghanistan and other regions of Iran. When Ali suddenly became a refugee himself, he continued supporting others like him as he travelled into Greece and then on to the UK, where he has been for the last five years.
"I created a space that really has the needs of people with lived experience at its heart."
Since arriving here, Ali and many of the members of Babylon have had negative interactions with organisations who are meant to support refugees and asylum seekers; in particular, they say that their stories are frequently exploited without their consent.
"When I came to the UK, I was lonely and isolated. Some organisations were recommended to me to help me settle in, and when I joined them, I quickly became a volunteer, and realised how important it is for young people from refugee backgrounds to have spaces where they can build relationships and skills. I also found some organisations where I disagreed with the way they related to people from our backgrounds, as if they were saving us "poor refugees", owning us, and using our stories without our permission to benefit their organisations. Sometimes it felt like I was being exploited. So I took the good things I learned from some amazing organisations, and my own lived experience, and created a space that really has the needs of people with lived experience at its heart, and where the participants know we have their backs because we understand what they are going through."
Ali's experience highlights the need for people with lived experience to lead the organisations that are meant to serve them and others like them.
"We can build this opportunity for ourselves," says Ali. "We don't need organisations to represent us in a way that's not us. We are a group of people who are mostly educated. We are doctors, we are engineers, we are actors, we are nice people. We are human! I want to change people's perceptions of us and I want to empower young refugees, migrants and asylum seekers to do things themselves, training them, giving them an opportunity to express themselves creatively, to follow their dreams."
There is little provision for young asylum seekers, refugees and migrants in the UK. Approximately 4,000 asylum claims are made by children each year. The overwhelming majority of these children are believed to be isolated from society in temporary or 'contingency' accommodation which Refugee Action describes as "a nation-wide system of racialised segregation and de-facto detention."
With support from the Challenge and Change Fund, Babylon delivers weekly creative activities by and for these young people, including drama, storytelling, film-making and art workshops.
"Blagrave has made my dream come true, to be honest, because I had this idea in my head for many years," says Ali. "I thought no one is going to trust me enough to give me some money to actually do this. I've never applied for funding before. Someone mentioned Blagrave to me, and I applied and got the money. I was like, this is amazing. I can actually work on my dream, create Babylon and make paid opportunities for people."

"We are like trees. If you give attention to a tree, you get more fruit and better fruit."
In its first year, Babylon delivered over 60 workshops to 570 participants in collaboration with organisations including Safe Passage, Red Cross, Little Amal, Fences and Frontiers, Dost, and Compass Collective. Babylon has also independently delivered 15 workshops with expert facilitators from migrant, refugee or asylum seeker backgrounds on topics including identity, community and social justice, drama, art, creative writing, photography and film.
Now a registered CIC, Babylon is steadily increasing its reach and impact, and Ali is working with his growing team to design more creative opportunities for participants.
"I don't want to be like 'we are amazing'", laughs Ali, "but we started with five or six participants and now we have around twenty five people regularly attending, and we worked with around 60 young people in independent workshops this year. If we had more money, we could support more people. We have a good team, we have very kind people around us, but if we don't have money then we can't carry on. We are like trees. If you give attention to a tree, you get more fruit and better fruit."
To spare him some blushes, Babylon's members wait until Ali is preoccupied to pay tribute to him and the impact he has had on their lives. Several of them say that he has been a lifeline; from supporting them with paperwork and legal issues to providing them a therapeutic and creative outlet, a community, opportunities, a new sense of hope for the future. One of them says that the workshops are the only place he goes to meet people each week. Another says that Ali has supported him to pursue a degree in art. Throughout the storytelling workshop, he bounds across the room, tending to people who are struggling with the activity, cracking up an otherwise subdued young person, translating (he speaks six languages), offering up encouragement, jokes and falafel wraps left, right and centre. He greets each person as they enter and thanks each person as they depart. Ali's care for every single member is palpable.
"One of the people who read his story today wouldn't go to college because he was shy," says Ali. "We had a workshop about confidence and storytelling a long time ago and he wrote a story but he didn't want to share it, so I asked him to share it with me. It was amazing and I gave him some good feedback so he came back and read it for the other volunteers as well. They loved it. In the last workshop, he asked if he could read a story. He did it and the volunteers and participants started supporting him and showing him some love. The other day, he told me he decided to go back to college and now, whenever there's an opportunity to present something, he's one of the first people to raise his hand. He wants to talk to us. To me, it shows that we have actually done something."

"Talk doesn't make you a better person. I want to make a change."
Through his work, Ali is building a community of people who can support each other long-term. He believes that making these connections will be crucial for people to heal from their experiences.
"Like them, I have been through the asylum system," says Ali. "I am still a refugee and I will be a refugee forever because even if I get my British citizenship, I still have this badge, you know, this label on my forehead that I am a refugee. I have also been used and I have dealt with fake mercy from some people. I can say that I want to help everyone but if I don't do anything, I'm basically faking it. Talk doesn't make you a better person. I want to make a change. I want to change the negative image of refugees in this country. Give us the opportunity and we will win medals for you, we'll win Oscars for you, we have lots of amazing ideas to share."
Ali is magnanimous in the face of a tide of negative media attention about refugees, asylum seekers and migrants. He believes that society on the whole is capable of transforming, and contemplates whether or not the UK could become more like the ancient city of Babylon, a peaceable haven for those fleeing crises.
"People talk a lot about how the government spends a lot of money on us, but that's because they won't open a safe route for us. You spend a lot of money to close the borders, so we have to spend a lot of money to pay smugglers to come to the UK. We are spending our money on smugglers but we could spend this money in the UK to build your economy. If refugees could pay you to bring them to this country, they would. You could save people's lives and bring them here in a safe and human way. It is good to feel you belong somewhere, but you should not forget that before you there was someone else in this land. At the moment, some countries are unsafe. Imagine that one day your country becomes one of those. If that happened, would you want people to treat you badly or would you want them to welcome you?"
—
If you'd like to connect with Babylon, you can do so on Instagram and Twitter.
You can also reach Ali by emailing ali@babylonproject.co.uk
You also donate to Babylon here.
The Challenge and Change Fund is designed by young changemakers for young changemakers. It funds young people directly, supporting them to create the change they want to see. It prioritises young people who are emergent and have lived experience of the injustices they are trying to change, supporting youth led collectives, social enterprises and CICs across England. You can read more about Challenge and Change here.