Segun Olowookere joined the Blagrave Trust as a trustee in 2019 and in November he became the new Chair of the Board. He is a qualified management accountant currently working for the Children's Society as their Finance Director and is passionate about inspiring young people. To celebrate this transition, the wonderful young ambassador Bola Ajose from the Young Trustees Movement interviewed Segun to learn more about him, his vision for the board and his transition in leadership.
Would you be able to tell me about yourself and your journey into the world of Charity and Trusteeship?
Really big question! I'm a Finance Director in the charity sector currently working at The Children's Society but predominantly, I've worked for international charities in the world of international development.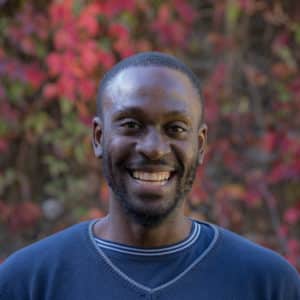 But I see myself as much more than that. I've got a beautiful family; I've got a beautiful wife and two amazing young boys. So, I'm a husband and father and I'm a believer, in making the world a much better place and that came from my upbringing. I was fostered growing up, and extremely lucky to have had an amazing foster mum. She's mum to me. Mum was awesome, she was a captain in the Girl's Brigade, she was committed to her local church, and volunteered in the church bookshop. So, I was exposed to being part of the community and helping where I can and that was ingrained in me from an early age.
I moved back with my biological parents to Hackney where I was born, and this was the late 90s and 2000s where Hackney was not the place it is now. Growing up as a young black man in Hackney gave me another side of my personality and my character in terms of survival skills and learning to navigate street life. Being honest, I was exposed and flirted with lots of negative temptations that one would not be so proud of today but it was all part of the learning experience of who I am today.
I made it to university, and I took a gap year because I was supposed to do a placement year, but I didn't find a placement. During that year I got Tuberculosis (TB)and almost died. It was the toughest year of my life but the best year of my life because it was also an opportunity for me to learn. I had never picked up a book on my own accord until then. The first book I read was about black history and that experience completely changed my paradigm, it just opened my eyes and started to really expand my mind and eventually I was able to stumble across an internship where I volunteered as a finance intern. I formed a good relationship with the Finance Director and they suggested I looked into a career in Finance and Accounting.
That's what I've done, and I've been able to qualify as a management accountant. I've been able to work for some great organizations and travel the world, meet some inspiring people and eventually those skills and experiences took me to become a trustee.
What's the most interesting thing you've learned in like the last month and what would you say are three words to describe yourself and why?
I'm blessed to be in positions of leadership in several areas of my life. I'm constantly learning about my character. I'm constantly learning all the time, every day so I don't necessarily have a paradigm shift that I can share but I feel like I'm learning a lot every day.
Three words to describe myself, I would say I am 'a lifelong learner'.
What was the major push that made you want to become a trustee?
The first time I became a trustee, I was invited. There was an organization looking for a treasurer (SafeHands) and I had the finance skills. I was asked and thought it would be a great experience to learn and grow as an individual in terms of learning more about governance, and how Boards work. I'm also very lucky to have an amazing and caring mentor, who encouraged me to join a Trustee Board because it's an opportunity to influence where resources are allocated, and where and how we solve problems in our communities.
How would you say that your last/past experiences have helped to prepare you for your current times as chair now?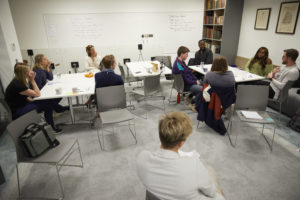 So as this is my first chair role, I think it's been really helpful that I was already a trustee of Blagrave. To take on this role with an organisation that I'm already familiar with, committed to and passionate about in terms of their work and mission, has been really helpful. Also, surrounding yourself with good people such as the Blagrave board, having a great CEO, a great and committed team and being able to trust them will all be helpful.
Was there anything that drove you to the Blagrave trust in the first place?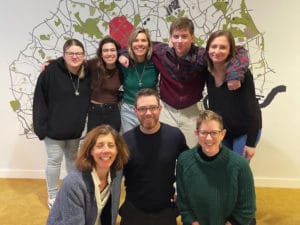 When I was working at Comic Relief, they were a Blagrave partner and funder with The Listening Fund. Blagrave CEO at the time Jo Wells, and Philippa Knott Kos who was leading the work, came and did a talk to the staff about how Comic Relief funds were helping drive the fund forward. I was really inspired by their approach and how they were talking about the work. At the same time they also mentioned that they were looking to recruit a new chair. They were also really encouraging people from diverse backgrounds to apply and so I originally applied to become the Blagrave chair but I wasn't successful. However, they did invite me to be a trustee and now three and a half years later, I've had the opportunity and honour to become the new chair.
What are you most excited about your term as the chair?
I think that one of the other things that attracted me to Blagrave, was that it was progressive. Being able to continuously be on that edge of comfort and discomfort – being uncomfortable in terms of risk, for the sake of making positive impact but always staying within the guidelines and the boundaries of the Charity Commission rules, and managing the risks well. That is exciting to me and being able to see what the Blagrave can do, not only with partners and young people directly but also how it can influence the wider sector. I think that is exciting because that's the snowball effect, right? It's not only about Blagrave. I think that if we can get a bit of a snowball effect in the sector for young people and youth leadership that would great.
Do you have like an overall vision of what you'd love to see by the end of like your term?
In terms of my vision for the board, I want to be able to continuously evolve how we govern as an organisation. I don't want it to be like, "Hey, I'm the chair and I hold the power and have all the final decisions." I would love to be able to share power as a board. I'd like all trustees to take a lead role in specific areas that the trust is moving towards. Being able to share power and involving young people in governance.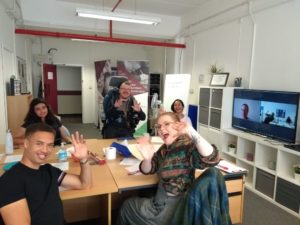 We've got a lot of Young Advisors, at Blagrave, so how do we govern as a board in a way that involves partners, advisors and doing that much better but at the same time being aware that on paper, the responsibility still sits with the board? We want to be able to give up a lot of that power to young advisors, so being able to navigate that, and be able to have a workable solution that's been tried and tested that we can also share with the wider sector.
When we interviewed Eli Manderson Evans (CEO) for his position, he used the word joy a lot and that's something that I would love to make sure that we can bring to the board. I want to create board meetings where we can go away feeling inspired, deeply informed, engaged and excited about the work that we do.
What do you think are the biggest setbacks or reasons that young people aren't on boards currently?
One of the reasons could be they haven't been exposed to the opportunity. Experience doesn't necessarily mean that they need to be at the top of their career. Young people have got great experience in society, and they can also learn, but just being aware of where they're at now, they have a lot to offer.
I don't think a lot of boards are willing and ready for young people because, young people bring great insights that require change and require the ability to listen well. A big part of listening is not agreeing with everything, but it means that you're likely going to have to do something different. That's uncomfortable and I think that boards need to be willing to embrace young trustees.
What would you say your biggest advice would be for someone wanting to get on to become a trustee?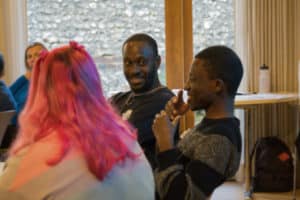 My biggest advice would be just to do it! We are all on a journey of learning and growing and I think that those that are interested in joining a board should just go for it. There are great organisations out there and I know The Young Trustee's Movement is willing to support and nurture Young trustees and first-time trustees.
Is there anything that young people should look out for when they're applying for boards? Are there any signs that this is a board that's ready for a young person?
When you're meeting the organisation, you want it to be a conversation, even in an interview. Not only are they asking you questions, but you should also be able to ask them questions and reflect on how they receive and answer those questions. I think that tells you a lot about where they're at as a board to decide if that organisation is right for you.
In partnership with the Young Trustees Movement. A massive thank you to Bola Ajose for supporting the interview to inspire and encourage more young people to pursue trusteeship.