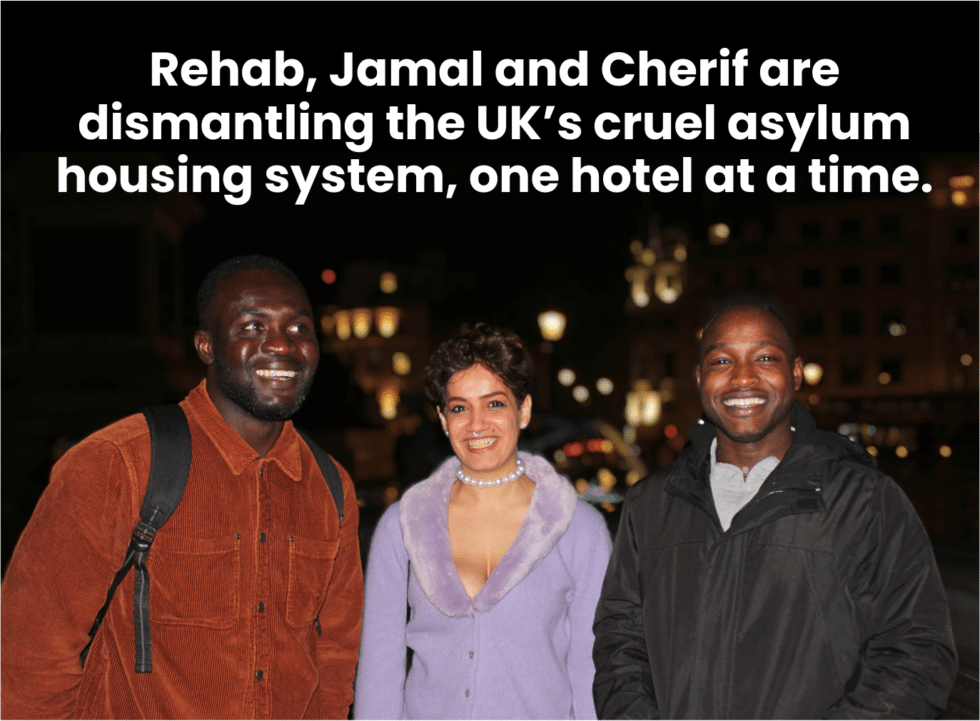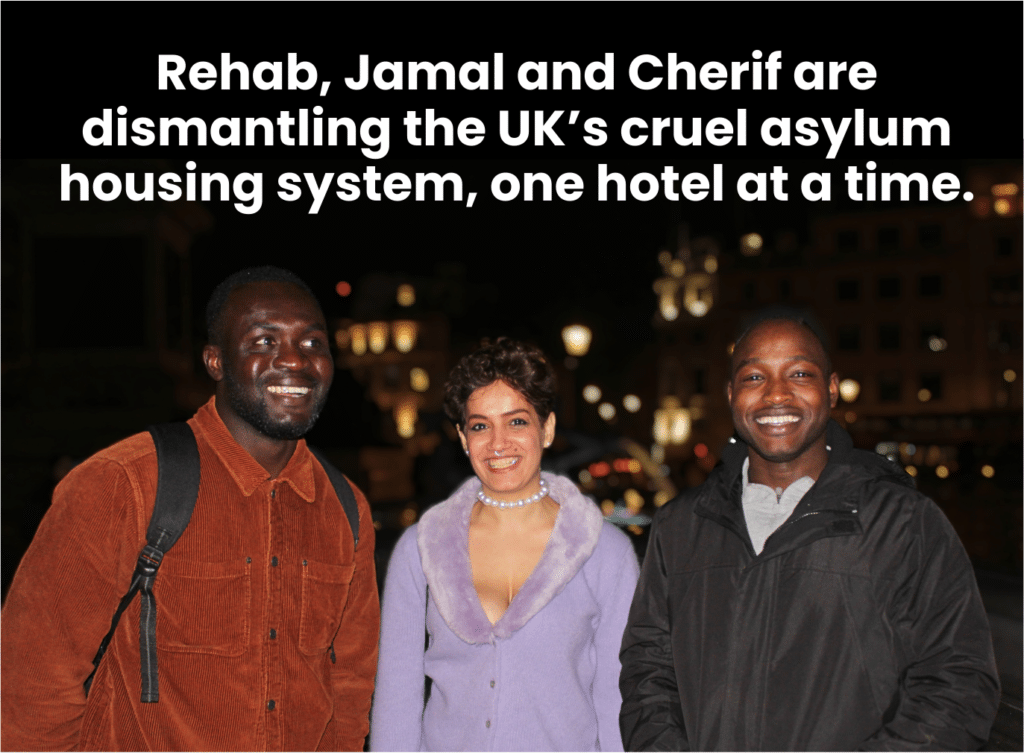 The horrifying consequences of the UK government's policies towards asylum seekers and refugees are well documented. Backed by Revoke and the Challenge and Change Fund, Rehab, Jamal and Cherif are building the case for a permanent end to an inhumane accommodation system that has endured for too long.
In a windowless room in the basement of a building, four people are waiting to learn when they will be safe and free. Bedding is scant and ridden with mites. The only light in the room comes from a harsh, yellow bulb which illuminates the mould that is spreading across the wallpaper. The people, all unrelated, share two wardrobes. Some have developed eye and skin infections. Others need treatment for chronic illnesses but, without a translator, they cannot explain this to the people who are paid to help them. They suffer in silence. The boredom is interminable. When the women and children try to use a toilet in a neighbouring room, they are routinely sexually harassed by the security staff and other men.
With £8 a week to live on, and little edible food in the building, these people are starving. While fetching some water, one of them hears about a girl who is being forced to share a room with a man; a room with a missing bathroom door. One of the people sends a complaint to the local council about the conditions. The police are called, but not to investigate the hotel management, to investigate the people in the windowless room.
.
"I don't want other young people to go through the same situation."
Some four hundred hotels across England are believed to house people who have fled violence and persecution. Civil society organisations have documented widespread and systematic humanitarian atrocities in many of these hotels, and research by the charity Refugee Action indicates that the accommodation system is "cruel by design".
"The three of us have been in this accommodation and we experienced how bad it really is", says Cherif, a Challenge and Change Partner and one third of the Revoke Group, which is completed by Jamal and Rehab. Cherif left Niger when he was seventeen, and spent five years travelling to the UK. "We don't wish that for anybody. We are still living in appalling places. Even the place I'm living in: it's a hotel but you don't want to see it. It's really bad."
 Jamal left Sudan when he was a child, and spent three years travelling to the UK. When he first arrived, he was sent to a hotel where he was treated particularly poorly by the staff.
"I don't want other young people to go through the same situation", he says. "That's not how refugees and asylum seekers are supposed to be treated. It's not fair, putting them in those hotels for years, for years and they don't have a voice."
 Jamal, Cherif and Rehab are among approximately 50,000 people who live in temporary or 'contingency' accommodation in hotels where they are held indefinitely while they wait, often for months and years, with no information about their asylum applications and no access to legal advice and representation.
 Refugee Action interviewed 100 asylum seekers in hotels in London, Manchester, the West Midlands and Bradford. 90% of those interviewed said that the hotels were not suitable and half expressed concerns about safeguarding. 75% face hunger and malnutrition and 52% have no money to buy essential items.
"They are held in rooms where they are unable to receive guests or arrange childcare and they are told that if they leave for short periods, such as one or two days, they will not be able to return," reports Refugee Action. "They live in an environment of fear of attacks by racist groups stoked by the racist language of politicians and sections of the media…In this system, people who came to the UK seeking safety are forced to live in conditions so bad that they present a clear threat to their lives."
 Eighty-two asylum seekers who received Home Office housing have died since January 2020, according to an investigation by the Observer and Liberty Investigates. The number of those who are chronically ill, sexually assaulted and exploited, or otherwise subjected to ill-treatment is unknown, but believed to be substantial. Recently, a child was assaulted in Rehab's hotel.
"I've been living through all the things we want to change", she says. "The staff don't help at all. They only speak one language even though there are more than 500 people who live in this place. It's not a lot of languages, maybe four in the whole hotel, and they don't even bother to bring anyone who can understand them. I saw some people who are suffering. They need to go to the hospital but they can't describe how they feel, what they want, and sometimes the staff just leave them there for two, three hours. Then, when they see something is really serious, they call the ambulance.

The security team is disrespectful. There is a lot of sexual harassment happening in this hotel and they don't do anything about it. They put everyone in one hotel. There are families, single men, single women, children and a lot of things happen. Two months ago, a child was assaulted. This is the first thing they need to think about. What will happen if we put all these people together?

Sometimes, staff or some of the security team come to my room to do their job and check the room but then they ask me personal questions. They ask me if I can go out with them, if we can travel together, or sometimes when I complain about someone who followed me, they say to me 'it's because of what you wear. Look what you're wearing. They are men'.

So a lot, a lot, a lot of bad things happened. And you don't know where to go. You don't know who you talk to. The people you should talk to, they don't help, they don't do their job. When I sometimes try to explain or complain to the staff, they say 'ok, it's nothing serious, if someone talks to you just ignore it'. One time, I complained about one man who came to me and asked me if I'm a sex worker and he wanted to give me money. When I told the staff, they said 'ok, he didn't do anything to hurt you so just leave it.'"
Rehab's experiences, while devastating, are all too common. Though staff at the hotel had turned their back on Rehab numerous times, she found the courage to take action and initiated an act of defiance that sparked the work of the Revoke Group today.
"I was holding all of this for a long time and then one day I talked to someone at an organisation in Croydon, his name is Adam, and he came to the hotel with a lot of people. He called some people from the Council, The Red Cross, the church, and human rights lawyers. When they came, I was talking to them about the things that happened. Because I talked about it and all these people came to the hotel, the next day they changed all the security team and, after two days, they changed the whole company."
"If people live in safe places, then other problems will become better."
Revoke is a UK-based grassroots organisation that advocates for the rights and welfare of underserved young people including refugees and asylum seekers. Both Jamal and Cherif volunteer at Revoke, which has supported the trio individually over a number of years. A member of staff there recognised a common desire amongst them to raise awareness about conditions at the three hotels in which they were housed in London. Revoke brought them together with a mandate to change the accommodation system once and for all.
"Revoke is an anchor between us and Blagrave", says Cherif. "We have been taken care of by Revoke and at the same time we work with them. A lot of us cannot speak the language, don't know what to say, don't trust anybody but I do a little bit of activism with Rehab. We gave speeches right here in Trafalgar Square, and Jamal is a writer and he helped me write an article. Revoke knew that we are already into activism, so they said, 'we're going to find a way to get some funds and join the three of you together, so that's how everything started."

"Luckily, Challenge and Change gave us this funding", adds Jamal. "When you go deeper, so many things happen, but the housing situation is at the top. If people live in safe places, then other problems will become better after. People are put in hotels, not a good environment, and that's not good for their mental health. If we get success in this, they might build more accommodation, better accommodation for refugees and asylum seekers so they won't go through this."
It's a happy coincidence that the Revoke Group are sharing their story with Blagrave in Trafalgar Square. For the trio, like so many hundreds of thousands of people before them, the Square has been part of their journey towards freedom. Many of the most significant social justice movements in living memory have maintained a public presence in Trafalgar Square, including the 24-hour picket of the adjacent South African Embassy which lasted four years until Nelson Mandela was released from prison. It is a fitting setting for the Revoke Group to congregate; working, as they are, to make more visible the immense, hidden crisis which Refugee Action describes as "a nation-wide system of racialised segregation and de-facto detention." With funding from Challenge and Change, they have started documenting the situation themselves and in the words of the people who are living through it.
"We have the courage to talk about it. We want people to know that you too have the freedom to talk."
"We go to hotels and we do interviews with people who are living in those accommodations because we want to hear from them individually about how they are living", says Jamal. "Another side is also statistics, so we want to know how many people are living there and what happened to them, so we collect data and then we take that to the people who can change the policy."

"We want to let people know what refugees and asylum seekers are going through because when people hear about us living in hotels, they imagine luxury", adds Cherif. "It's appalling so we want everyone to see. Our main focus right now is to raise awareness and we have done a lot. Through what Rehab did at her hotel, for example, there was a change. It's not perfect but it's better than it used to be. It is possible for the government to change things, they are just not doing it. They are neglecting us. This needs more attention. People need to understand and then put pressure on the government to do better."
 The group emphasises the importance of their lived experience in successfully obtaining this vital documentation and evidence. Not everyone can show up at a hotel and start asking refugees and asylum seekers to share their stories, they say.
"Unless there are organisations like us who can go into London refugee and asylum seeker accommodations, no one is going to find out what's happening", says Jamal. "A lot of people, when they come to this country, they keep silent because they're scared. You don't want to talk about it. If you get eight pounds a week, you have to just keep silent and stay hungry, sleep hungry, because of the fear of what is going to happen. Some of them may be scared if they talk about it that they might get deported to Rwanda or other countries."
 Their fears are substantiated. Refugee Action reports that "people who complain about the conditions have been threatened with deportation to Rwanda", among other repercussions. One young asylum seeker told the Blagrave Trust that when she complained about conditions at a shared house to which she was sent temporarily, the company managing the property retaliated by barricading the front door with a skip, preventing the people inside from leaving for several days.
"Before, I thought the staff in the hotel were the Home Office", says Rehab. "That's why I was silent for a long time. I didn't speak about it because I thought if I did anything, they would send me back to my country or something bad would happen to me. Because of this project, we read more and we do a lot of research and now we have the courage to talk about it. We want people to know that you too have the freedom to talk. You haven't done anything wrong. You have the right to talk about any problem you have. A lot of things happen inside that no one talks about. No one knows how to talk about it. We want them to know there is someone who is here to listen to you."

"We have power and we have a lot of organisations behind us", adds Cherif. "It motivates us and keeps us going. We have also learned about ourselves, how to take care of ourselves because helping others in this sort of situation is really hard."
 Jamal agrees that self-care is important for young leaders with lived experience, explaining that "this is also very good for our own mental health. We feel like we're doing good work for others. We've already changed many people's lives."
"What we are trying to do is simple and achievable. We know this can be done, that's why we're doing it."
With support from Revoke and a network of organisations in London, the team have spent the last year compiling statistical data, testimonies, video and photographic evidence and are building relationships with partners and MPs who can make the case for a reform of the current system.
"What we are trying to do is simple and achievable", explains Cherif. "The money the government is throwing on this system can do better than what we are receiving right now. We know this can be done, that's why we're doing it. If the government can do this, then it means anything can be done."
In addition to their documentation work, the team routinely takes the Red Cross and other organisations to visit hotels in London. They have built relationships with academics at Leeds University and Southampton University, with whom they have participated in research about the impact of COVID-19 on Asian and Black minority groups; the findings of which were presented to MPs in Parliament. They participated in a filmmaking course and aim to film a documentary about the accommodation system in the near future, and plan to expand their work to other parts of the UK.
"We want to inspire the other refugees and asylum seekers to do what we are doing", says Rehab. "Inside, all of us have strength. We left everything in our country and came here to build a new life. It's enough what we're suffering from already. We came to a new place, we don't know anything here and we want to feel more welcome. We don't want to be treated like we are prisoners, like we are not human.

That's why it really meant a lot to me, this funding and this project. I'm happy because the issue we chose, housing, all of us can feel it. We have the anger and we have the power to do it and for me it means a lot so I just want to say thank you to Blagrave."

"This type of funding really, really, really helps us", adds Jamal. "We need to thank Challenge and Change because it's an honour to have this funding, and we also need to thank Revoke because Revoke is helping us to manage this work. We want all refugees and asylum seekers to live as citizens. This is our goal and we hope that more people will have empathy towards us. Everyone could be a refugee one day. You don't know what's going to happen."
—
If you would like to connect with the Revoke Group, you can do so by emailing advocacy@revoke.org.uk
–
The Challenge and Change Fund is designed by young changemakers for young changemakers. It funds young people directly, supporting them to create the change they want to see. It prioritises young people who are emergent and have lived experience of the injustices they are trying to change, supporting youth led collectives, social enterprises and CICs across England. You can read more about Challenge and Change here.