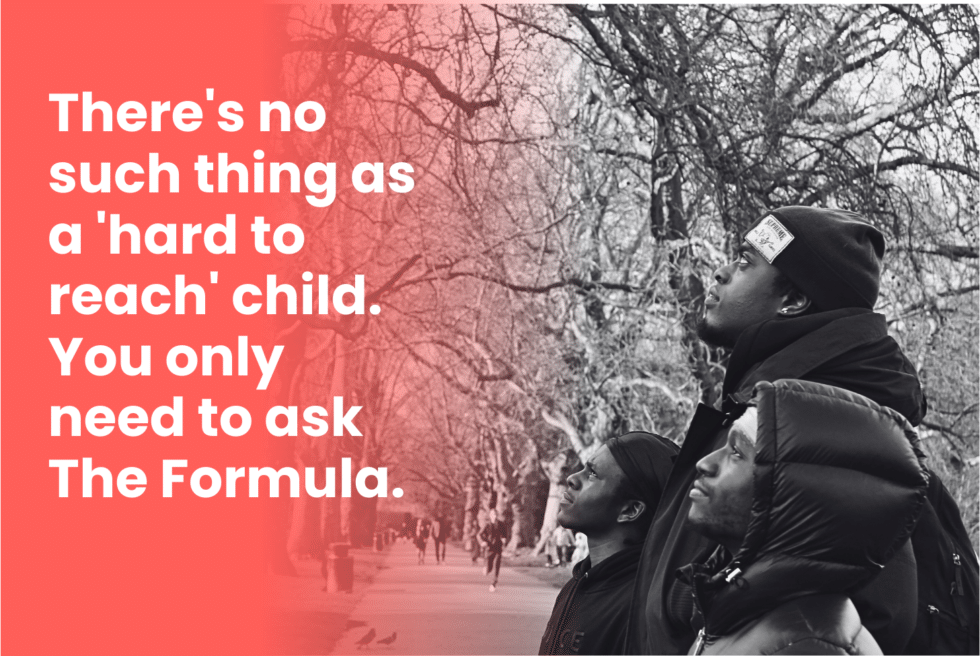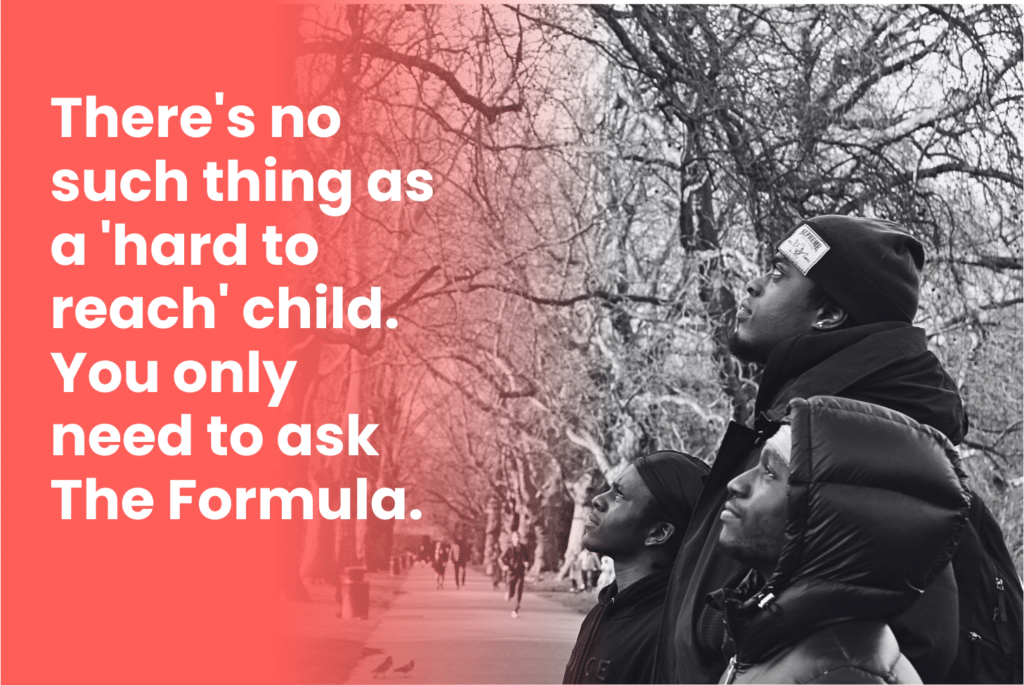 Demetri, Josh and Shekeem are intervening at a critical moment in the lives of young people in South London, helping them navigate complex circumstances and take control of their futures.  
Demetri, Josh and Shekeem talk about their work to uplift young people with a warmth and familiarity that radiates from people who truly know, love and are optimistic about the future of their community. Having a good sense of humour, it seems, is also an essential part of the job. To meet the trio, you might mistake their shared joy in delivering their work for idealism but, in reality, the three co-Founders of The Formula are grounded in a deep understanding about the complexities of growing up in South London, and how to successfully guide local children towards a better life. 
"I know the worst possible routes you could go down," says Shekeem, who works at a Special Educational Needs school. "None of us are bad people. We've grown up in bad environments and you have to adapt a lot more. We're all young Black men from or who primarily grew up in South London so we understand the trials and tribulations a lot of children go through."
Shekeem explains that he has worked with children at more than one school who have been described as difficult.  
"I don't find them difficult. I think the main difference between myself and a lot of other people is that simple word: respect. We understand how to talk to people which I think is a very important skill that a lot of people lack. I don't think there's a direct way to change, but I think there's a formula for success. To help children be successful, you've got to understand them and treat them with respect."
"I don't think there's a direct way to change, but I think there's a formula for success.
"
Pictured: Josh (left), Shekeem (middle) and Demetri (right).
Demetri, who brought the group together, is a long-time youth worker and facilitator of employability, creative and critical thinking workshops. While at school, Demetri greatly benefited from mentoring which he says altered the trajectory of his life.   
"I know people in similar positions and their life has gone absolutely left because they didn't have the same opportunities as me", he says. "Just because you weren't helped as much as me, your life is in absolute disarray. That's why I want to do something about it."
This observation sparked several ideas in Demetri about how he could replicate the support he received on a larger scale in his local area. Through conversations with Josh and Shekeem about how schools are failing to reach children in time, Demetri refined his vision and the trio designed a programme of workshops they believed could support secondary school pupils to take positive steps in their lives. They developed an outreach strategy, a business plan and a name: The Formula, which was "cocoa butter inspired", according to Shekeem.  
"The absolute truth of the origins is that I had a cocoa butter bottle and it said the word 'formula' on it and I thought, 'that's a great name!'" The group laughs.  
"We were all on a call together and Shekeem said it", says Josh, who is heavily involved in advocacy work on various social justice issues, climate change and Pan-Africanism. "It resonated with me a lot. There's a lot of inferred meaning: we have the formula for change. We know how to help kids stay out of certain things or get into certain things."
Demetri's mentor, Ciaran, directed him to the Blagrave Trust and he made a successful application to the Challenge and Change Fund to pilot The Formula's first schedule of workshops.  
"It's allowed me to turn an idea into something tangible", he says. "I've been able to work with my friends and actually do something. We talk about this stuff all the time but if I don't have the funding or the facilities to do something then it's just going to annoy me. It's super important."

"It's opened a lot of doors", adds Josh. "Being able to walk into a room and say 'I'm funded by this Trust' gets people looking at you like 'okay, let me hear what you have to say.'"

 "It's allowed me to turn an idea into something tangible."
London has the highest poverty rate in the United Kingdom, and the poverty is particularly acute south of the River Thames. The borough of Southwark, for example, has a staggering child poverty rate of 43.1%, one of the highest in the country. By all accounts, progress has been slow to improve educational, health and other outcomes for young people who grow up there.  
In response to this, The Formula's workshops provide local young people a space in which they can express their aspirations and frustrations and identify clear educational and career paths. The impact of the workshops was immediately visible, says Demetri. 
"At the school that we went into, there are three other projects the young people are part of. We asked them about ours and they all said that ours was their favourite, and that was literally just the pilot. Josh hadn't ever worked in a school before and he smashed it. Every time I think about it, it bugs me out. He went in there and did his thing. Seeing the way the young people responded to it lets me know that this is the right way."
Josh explains that being from the community you're trying to engage is key, and emphasises the value of lived experiences in delivering youth work.  
"If you don't understand the people you're trying to serve, you're going to end up missing the mark. The reason why we're the right people to do this work is because we know who we're serving."
"Between the three of us, it's very unlikely that any of the young people we're working with have done something that one of us three haven't done", adds Demetri. "We're not talking air. We're talking from experience. Just being able to see someone who looks like you and has the same experiences as you, I feel like it's a proper cheat code to get right in there."
 "If you don't understand the people you're trying to serve, you're going to end up missing the mark. The reason why we're the right people to do this work is because we know who we're serving."
The co-founders are planning to incorporate The Formula and apply for additional funding to expand their offering, and Demetri is in conversation with more schools that are interested in the programme. Throughout the process of formalising their work, they have drawn upon support from the network of Challenge and Change Partners.  
"Being able to converse with people, hear their ideas, hear their thought processes, see what they are doing: I feel like it's very useful", says Shekeem. Josh adds that "when you're starting a business, it's a very lonely process. There's a lot of stuff you've got to do by yourself and having those meetings reminds you that we're not the only ones going through the things we're going through."
Demetri believes that their work is part of the wider movement to create a more informed public who understand and actively inform the laws and policies that affect their lives and livelihoods. Equipped with funding, a growing network of support and a wealth of community insight, the co-founders have already forged a substantial inroad towards the change they want to see. 
"I want to live in an educated world", says Josh. "I want to make sure the people I grew up around and the communities I live in end up more educated than when I came into the community or when I came into the world. You don't know what you don't know-"

"-and knowledge is power, at the end of the day", adds Shekeem. "We're just some young guys trying to make some change. That's about it,": an unfairly humble description of the three young men who are leading a quiet revolution within classrooms across South London, more to the benefit of their communities for generations to come.
–
If your school would like to connect with The Formula, contact: theformulaldn@gmail.com  
–
The Challenge and Change Fund is designed by young changemakers for young changemakers. It funds young people directly, supporting them to create the change they want to see. It prioritises young people who are emergent and have lived experience of the injustices they are trying to change, supporting youth led collectives, social enterprises and CICs across England. You can read more about Challenge and Change here.